After only 9 months in office the phrase Fuck Joe Biden has become a catch phrase in our society. The alternate phrase Let's Go Brandon is the safe for work alternative to FJB.
Callous Mind dot com is doing our part to celebrate this cultural phenomenon by creating a political culture challenge coin featuring the words Fuck Joe Biden on one side and Let's Go Brandon on the other side.
These coins are now available for presale. This coin measures 1.75 inches in diameter, shiny nickel plated and has color and epoxy on both sides. Get yours today for $9.73 per coin plus shipping.
Shipping will be done via the United States Postal Service first class mail. Bulk purchasing options (greater than 20 pieces) are also available. Please use our contact form for questions regarding bulk purchase of this coin.
#FJB #LetsGoBrandon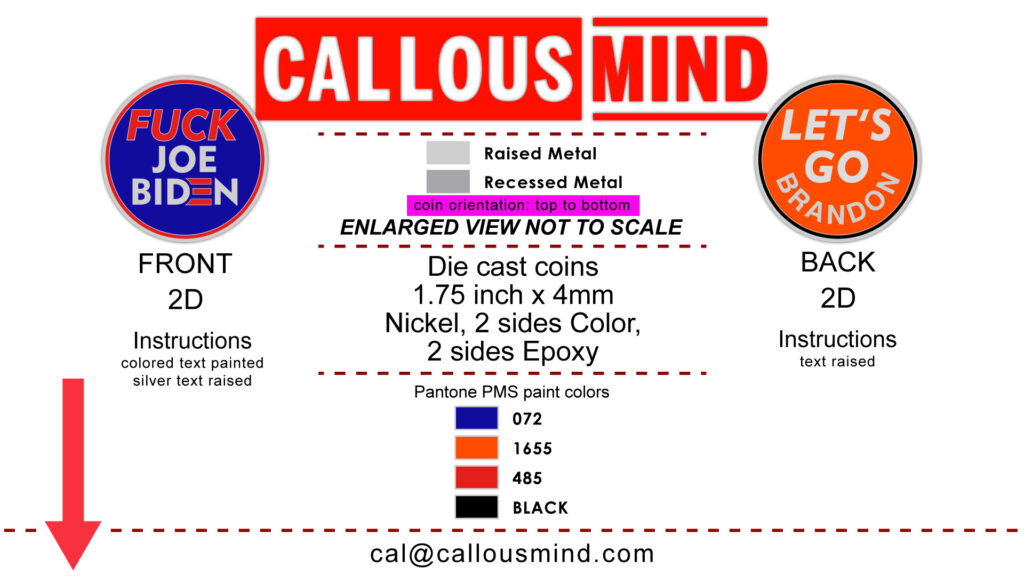 You can also buy this coin on Ebay by visiting this URL – http://buyfjbcoins.com or you can buy on Etsy by using this link.
This page was updated on May 10, 2022.